After her normal morning commute turned deadly, Teresa Evans says she is grateful to work at Vanderbilt University Medical Center.
Oct. 7 started like any other Monday. Evans parked in the N shuttle lot and waited for the blue shuttle to Medical Center North, where she works as assistant to Gordon Bernard, M.D. But as she walked to the shuttle stop, a painful headache signaled something was wrong. Fellow riders let her have the first seat on the bus, and she planned to exit and go straight to the Emergency Department.
Lindsey Besedich, R.N., a nurse in cardiac diagnostics, was on the same shuttle and heard screaming as it pulled into the Round Wing drop-off. She jumped up and found Evans splayed awkwardly on the bus steps.
"I thought she had fallen and hurt herself, but I had been a cardiac ICU nurse for seven years, and you can just look at someone and know they are really sick," Besedich said.
Evans was able to say she had a horrible pain in her head and couldn't feel her legs. Then three residents arrived on the scene, and Besedich instructed them to find a wheelchair and help her push Evans to the ED.
"She started throwing up, and it wasn't the normal upset stomach. It was the vomiting when someone is going down. I knew things were really bad," Besedich recalled.
Evans had a CT scan that showed a subarachnoid hemorrhage, with a large amount of blood filling the area around her brain. She was also developing hydrocephalus (a buildup of cerebrospinal fluid), and emergently had a drain placed to relieve the pressure. While having her CT, Evans' heart stopped and she had to be resuscitated.
A CT angiogram revealed the source of the bleeding — an 8 mm intracranial aneurysm that had burst. An aneurysm is a bubble or bulge that forms on the wall of blood vessels. Only about two-thirds of patients survive ruptured brain aneurysms, and of those that do, about half have significant disability.
"She came in in the worst condition possible and then coded. With those factors, her prognosis was exceedingly grim," said J Mocco, M.D., M.S., associate professor of Neurological Surgery. "However, we did our best to get her better and she's a strong woman, and she made a miraculous recovery. On arrival, the cards were stacked against her, but she has done wonderfully."
Mocco snaked a catheter from Evans' groin to her brain in order to fill the aneurysm with small platinum coils. Then she recovered in the Neurological Intensive Care Unit.
"I was mostly out of it during that time. I don't have much memory, which may be a good thing. I never got scared about death or disability because I never really knew what was happening. My family didn't know if I would be a vegetable or dead," Evans said.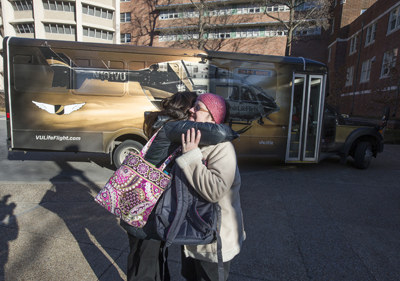 Evans had therapy through November and December at Stallworth Rehabilitation Hospital and Pi Beta Phi Rehabilitation Institute to work on standing, balancing, walking, speech and mental focus.
She was back to work part-time on Jan. 15, but still has some fatigue, headache and dizziness.
"I'm determined to be back to normal. It may take another year or two. I still have deficits in my memory and ability to focus, but I'm hoping I can compensate for the memory lapses with good notes," Evans said.
"I'm a private person but thought this needed to be shared, how everyone came together to help me and was so nice and professional. It's a good reminder of what a great place this is to work. They do this every day — put brains back together and get hearts to beat again."
Evans' sister made Christmas ornaments with Besedich's picture on them, so the whole family could remember "the hero."
Besedich said she was just in the right place at the right time.
"I've been a nurse for 10 years and know she was incredibly lucky that this happened at Vanderbilt. Everyone was meant to be exactly where they were."