Our collective 3000 mile challenge will be used to improve the lives of people impacted by brain injury and disease. Together let's #collectthemiles
Be One of the "We"
WeRunWithYou is a non-profit organization founded by myself and my husband Rob to support brain aneurysm survivors. A brain aneurysm ruptures every 18 minutes and most show no prior symptoms. Approximately 50% of patients with who suffer a ruptured brain aneurysm die before reaching a hospital. The statistics show that 1 in 50 people have an unruptured aneurysm. I was one in 50 and on March 8th, 2015 I suffered a rupture. The mission of WeRunWithYou is to fund research that improves patient outcomes, raise awareness and to provide support for survivors and families. 
This April I will fulfill a dream of running the Boston Marathon. I invite you to join me while I train and support our efforts at WeRunWithYou. Our goal is to accrue 3000 training miles between February 20th and April 18th. All proceeds will support our mission so let's run, walk, bike, swim, hike or roll our way to a brighter future for millions of people affected by brain aneurysms. Help us continue to push the boundaries of research and technology for the treatment of cerebrovascular disease. As a community we can turn our athletic achievements into change for those suffering from cerebrovascular disease. So please be one of the "We" and make a difference for the lives of so many survivors and their families. Join us and let's collect the miles together!!!

About the 3000 Mile Challenge
You don't need to be a marathon runner to run with Kathy this year. Click "Join the Challenge" above and help us hit our goal of running, walking, and riding 3000 miles together from February 20th to April 18th while fundraising for this important cause.
Kathy is running the LA and Boston Marathons this year to support WeRunWithYou and raise more awareness and funding for cerebral vascular disease research.
Kathy's Story
Help me collect 3000 Miles from LA to Boston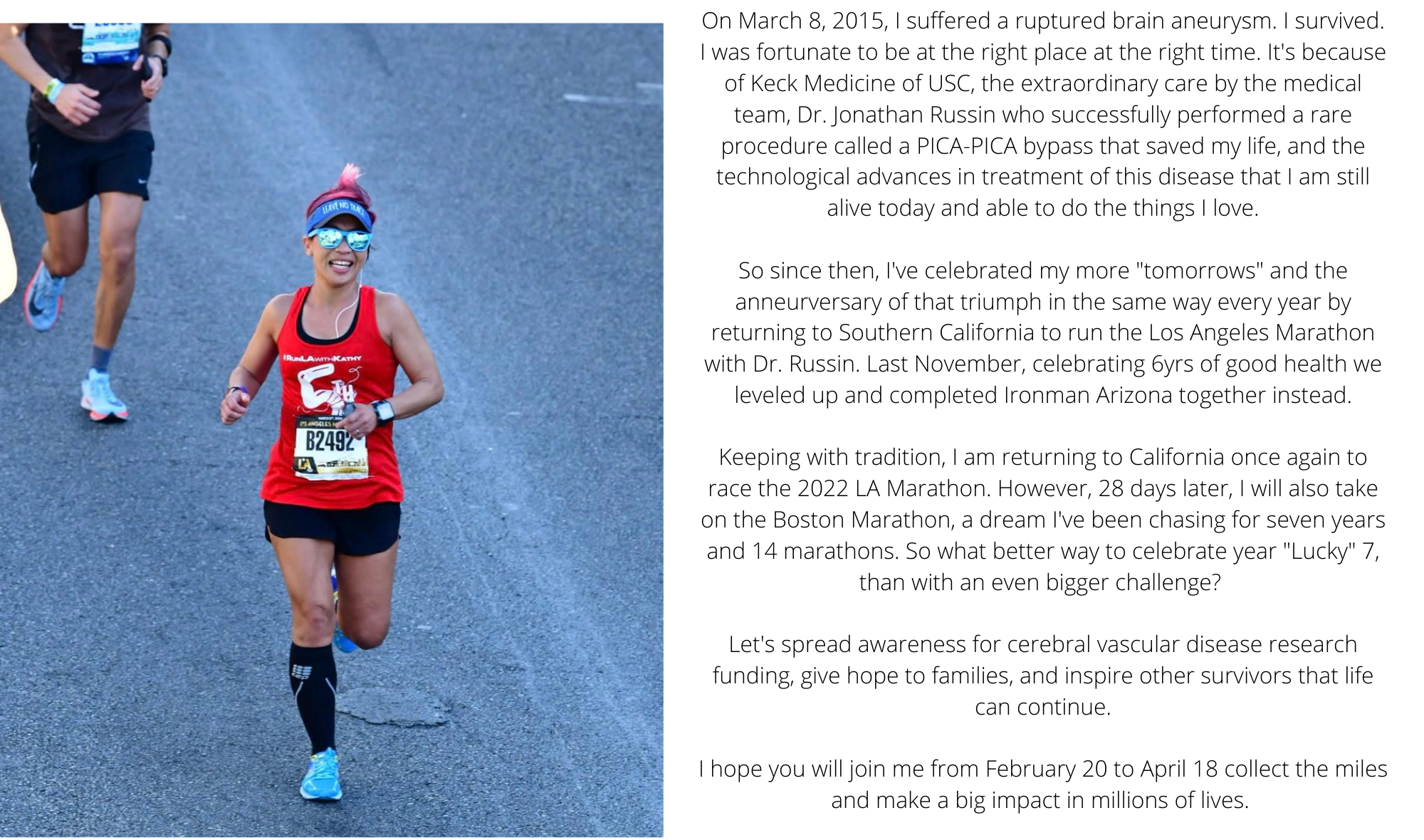 How it works
Click "Join the 3000 Mile Challenge."


Estimate how many miles you'll run, walk, bike, swim and/or hike between February 20th and April 18th. Whether it's 10, 50, or 500 miles, there's no amount too big or small! **Treadmill, Peloton, and stationary bike miles COUNTS.

Reach out to friends and family to ask if they'll support your efforts by donating to you! They can make a pledge per mile or donate a flat amount to your efforts.

Log your miles daily by connecting your Strava account or log them manually directly through our site.

Keep an eye on the leaderboards to see how your friends and competitors are doing!